This topic is available here on The Repair-Place forum
So TheGuru is visiting with me this week, helping with (OK, doing it all) some kitchen construction remodeling.

In this Phase One, "we" are making the refrigerator opening larger, Hooking up water for the refrigerator water and ice maker, replacing the above the stove venting range hood with a microwave/rangehood combo, requiring cabinet modification, turning a pantry cabinet into a base and a wall cabinet, and if time permits building a pantry with a pocket door.

I plan on taking pictures!!

Have fun!


Ok, here's an update!

You remember what the kitchen looked like; Big pantry on the left, way too close (actually abutting the stove/range with a wood side! Tsk, tsk.) White fridge, almond stove, almond dishwasher (not shown), microwave sitting on a cart next to pantry. Eat-in area with no table.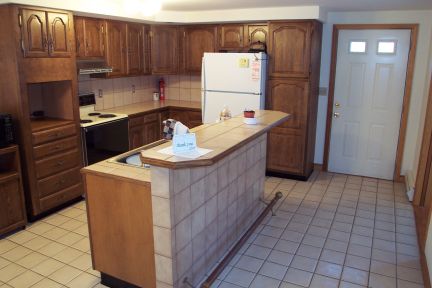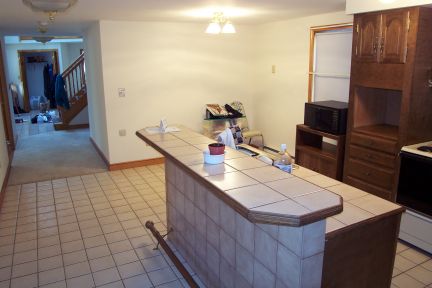 Here we are in the middle of demonstruction (That's a phrase I coined for "Demolition and Construction". We're not really demolitioning anything, we're taking some of it apart, and we're really not building much, just reworking some cabinets and replacing them... So "Demonstruction" it is!)

Refrigerator sitting across the room (where it's been sitting for the last couple of months), Left pantry cut down and top half removed, venting range hood and cabinet above removed (and has already been reworked, and is sitting on top of bottom half of left pantry, waiting for installation.



The big pantry on the right has been moved over 3 inches and two 1 1/2 inch filler strips have been added to the above the refigerator cabinet that is to the left. That took an entire day!!! The pantry was not in perfect shape structurally and the valance above was actually built around the cabinet. The filler strips came from the left pantry verticals that were cut away, so they are a perfect match!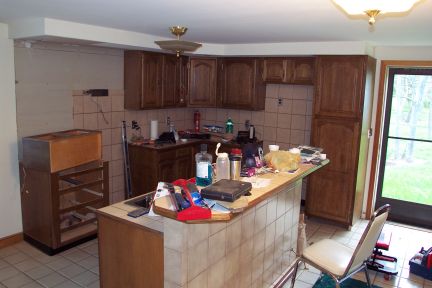 It's been flooding around New England, glad I have a garage in which to do the work! My garage turned into a woodshop --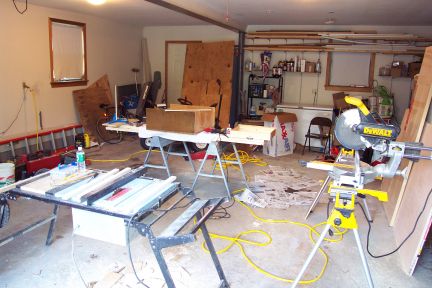 Reworked cabinets going back in place -- notice there's only 1 hole in the wall for the old range hood...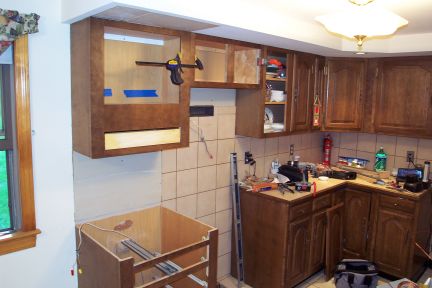 Next day the rain lets up so we can cut the whole for the new microwave / range vent (They call it a "Microhood combination")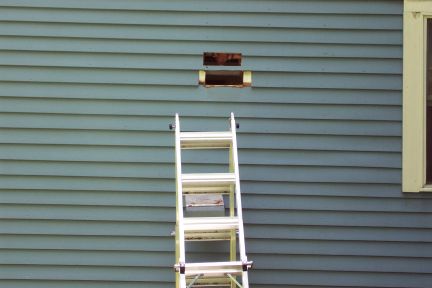 OK! Here we are so far! More pics to come.
Whew! I had my invisible suit on that day!!

Fun! Fun! Fun!!!